UCLA Dunks are just around the corner waiting to release at the end of THIS month! So, read on to get yourself ready for a Nike cop. 
Origin Of UCLA Colorway
Color Psychology is the study of the impact of colors on perceptions and actions. So, brands adopted this concept and applied it to their products and marketing campaigns. It's essential since brands reach a level where they've produced TOO many styles. So, what they do is recreate that same style but in a new colorway. And the more unique and enticing the color, the more hype it gets. And if the colorway has a story behind it… Watch the sold-out signs appearing left and right. 
Did you know that a study has shown that between 70% and 90% of the time, we subconsciously judge a product in a few seconds solely based on its color? So, imagine enticing colors AND a story behind them. This just screams hype. And that's exactly what Nike's UCLA Dunks are about. 
The UCLA Bruins is a basketball program representing the University of California, Los Angeles, and was established back in 1919. UCLA's colors are blue and gold just like the University of California's. Why these two colors? Well, they were specifically selected to represent the state's attributes. While yellow represents the sunset and the golden state, blue symbolizes California's wildflowers and the ocean. Talk about two colors reflecting calmness, safety, and freshness. Bruins have a historical success record from bowl games to NCAA championship records. 
UCLA Dunks Features
Nike Dunk Lows are one of the most collected sneakers in the market nowadays. They dodged their original purpose as basketball shoes specifically made for college athletes and skateboarding. So, now Dunks are a must-have not only for sneakerheads but also for casual wearers.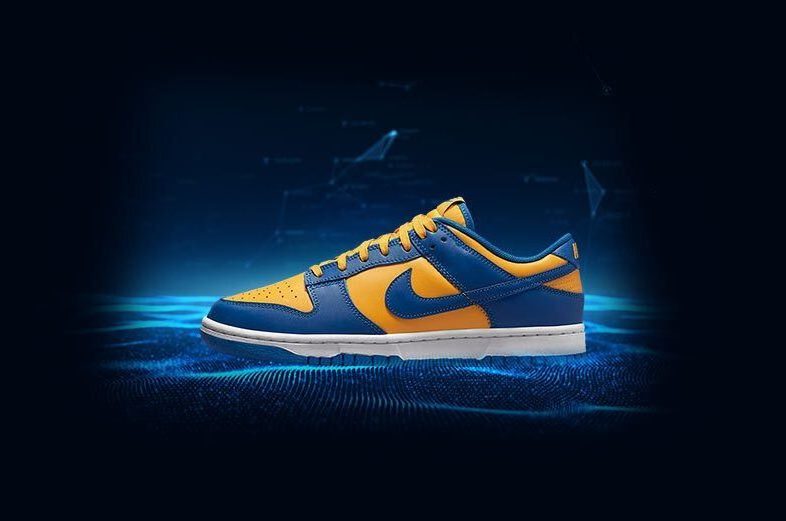 University Gold, Royal Blue, and white blanket the upcoming UCLA dunks. University Gold hue overlays the soft leather of the toe box and the quarter of the shoes. As well as the laces. This contrasts against the best blue shade, Royal Blue, which covers the tip, eye stays, heels, and most importantly, the signature swoosh of the dunks. However, the two colors that make the rubber outsoles are white and blue. To be exact, white covers the midsoles and blue the outsoles. 
The upcoming dunks promise a debut on October 25, 2022, for a retail of $110. You can purchase it on the Nike SNKRS app upon its release. 
Why Buy The UCLA Dunks
UCLA Dunks may be every sneakerhead's next target, but why would it also be yours? Well, aside from its unique features and exceptional colorway, these dunks can be a great method of making money. And if you're wondering how they'd do that, let us guide you through it all!
So, as you may know, debuts like these dunks tend to be exclusive. Meaning that they release in very limited quantities, boosting demand for them. And when this happens not everyone that wants these shoes gets to have a chance at having them. Thus, the existence of the sneaker resale market. So, what exactly could be your role here? Well, you could simply be the person who gets the shoe before it lands on the resale market. But this can only be done by having a sneaker bot with you. It's the tool that everyone needs when there's a hyped release where you can either buy individual pairs for your use or go all the way and buy in bulk! Which only promises higher returns as the profit increases this way.
Nike Dunks Lows, such as White Black Pandas, usually sell at double their retail prices and more. So, if you wanna get into the sneaker resale game, you gotta have an efficient bot with you. And EasyCop Bot can be your best option, as it's on the top list of the most efficient and affordable sneaker bots!