#1 ADD TO CART BOT FOR LIMITED SNEAKERS & ITEMS
Tailored to perfection, EasyCop sneaker bot will do more than pay for itself.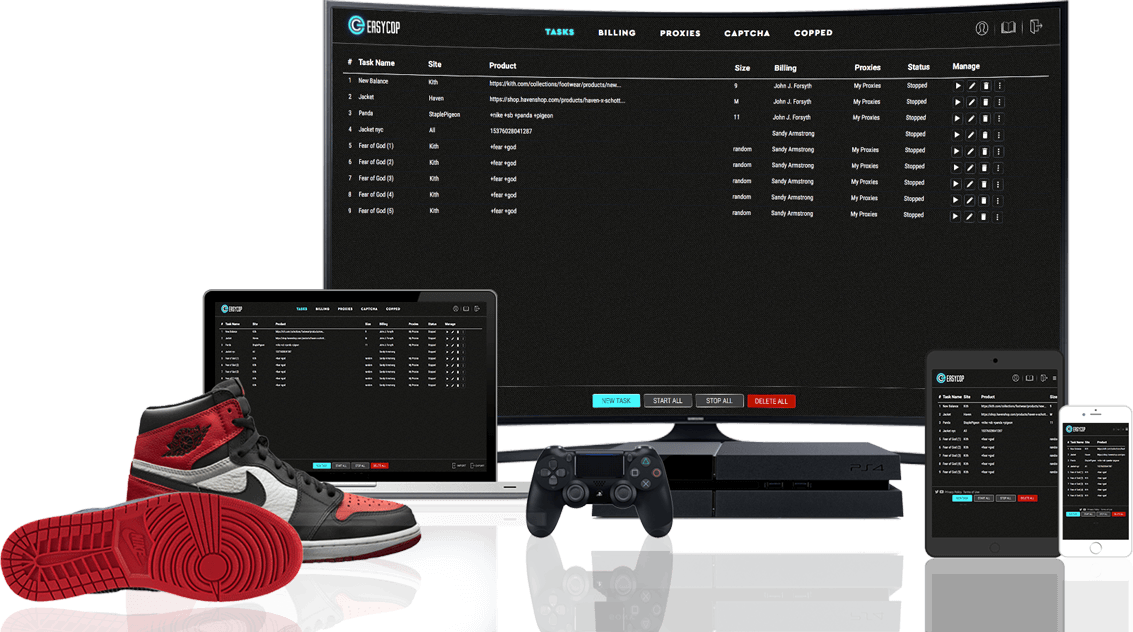 Welcome!
EasyCop is the best all-in-one sneaker bot in the industry. And the only sneaker bot you'll ever need.
Supports all Shopify and Adidas sites you're looking to cop from. And more will be added soon including Footistes, Nike, Nike SNKRS App, Jimmy Jazz, Mr. Porter, Size Co and many more.
Web-based Experience
You will cop using your old and rusty computer. No need for mythical superhero specs. You're running a cloud bot, you can run your sneaker Bot even on your ps4
Early Link Monitor
Once it's release time, easy cop sneaker bot will detect any possible product link, and put it at your use to cop with no delays.
Automatic Updates
Don't miss a single update. All code is running on cloud so updates will be available automatically. You will never have to restart your bot, or lose any of your tasks.
Unlimited Access
Our cloud-based sneaker bot will free you from all physical constraints while copping. You can run your bot anywhere, at any time using absolutely any device you have.
High Success Rate
EasyCop is proven to be the best solution for all business and personal sneaker add to cart needs.
Super Fast Checkout
Your sneakers will be in your hands in no time. Our bot holds a record time checkout and is competing with the biggest bots in the game.
SUCCESS READY
EasyCop sneaker bot is ready to be ran on your favorite Ipad,smart Tv, Phone, Mac and Windows.
With insanely fast speeds, EasyCop will nearly guarantee success on the next limited release.
Easily configure EasyCop  for your add to cart service and watch your added products pile up.
IN CASE YOU NEED ANY HELP
VIEW DOCUMENTATION
If you have any questions, be sure to check out our extensive documentation.
View now!
WATCH OUR VIDEOS
Check out our YouTube channel for useful tutorials on using EasyCop Ultimate.
Subscribe Now!
NEED SUPPORT?
Our representatives are happy to help you in your EasyCop Ultimate experience.
Contact us