What are the rarest Yeezy sneakers?  Well, if you don't already know, Yeezys weren't always available FOR EVERYONE. There was a time that Yeezys were so rare that you could only see them in pictures. They were like valuable trophies. You know they're out there somewhere behind glass, but they're unreachable to most people. And in that case, they're definitely unavailable for everyone to actually WEAR. 
Moving on, the dead partnership between Nike and Yeezy sure left its print in the sneaker industry in general, and the sneaker resale market specifically. As the collab is no longer a thing, Air Yeezys are now cherished collectibles that only seem to go up in value each passing day. And although Adidas Yeezys are not as limited as Nike's been, there still are some samples that the sneaker community considers the rarest Yeezy silhouettes. BUT with Kanye Leaving Adidas, Adidas Yeezys might crash the highest resale value scale.  
Rarest Yeezy Sneakers List
Grammy Worn Nike Air Yeezy 1 Prototype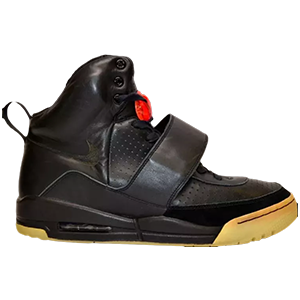 Release Year: 2008
Retail Price: N/A
Average Resale Price: $1.8 Million
Let's start by saying… 1.8 MILLION DOLLARS for a pair of shoes. April Fool's still far away, so no jokes here. On the 10th of February in 2008, Kanye West wore mysterious sneakers during his emotional performance at the 50th annual Grammy Awards, which no one could identify. Thirteen years later, those same shoes sold at Sotheby's auction house for $1.8 million on April 26th, 2021. 
Therefore, not only is this Air Yeezy THE rarest Yeezy, but it's the rarest and the most expensive EVER!
Nike Air Yeezy 2 Red October
Release Year: 2014
Retail Price: $250
Average Resale Price: $15,601
Farewell in the form of sneakers? That's exactly what Nike Air Yeezy 2 Red October is. Another Air Yeezy making it on the rarest Yeezy list. It was the last Air Nike to release, marking the end of Nike and Yeezy's Partnership. 
After many speculations about whether the two brands will end the contract with a final release. Red Octobers finally debuted in 2014, but in an extremely limited number. And were only available online. Also, they sold out in 10 minutes after! 
Nike Air Yeezy 1 Net Tan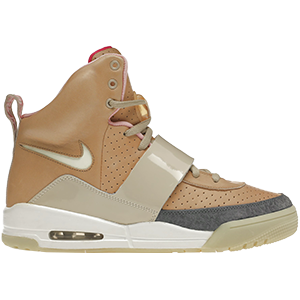 Release Year: 2009
Retail Price: $250
Average Resale Price: $4,529
Another pair of the rarest Yeezys is the Net Tan Nike Air Yeezy. The Net Tan colorway gave Air Yeezys 1 a closure. They were the final colorway of Air Yeezy 1 Kanye dropped before ending his collaboration with Nike. They were limited that only a thousand or several more pairs debuted that year. And this rarity raised its resale value to more than 4k now. 
Nike Air Yeezy 2 Solar Red
Release Year: 2012
Retail Price: $250
Average Resale Price: $9,120
Although, Nike Air Yeezy 2 debuted in several colorways, such as Wolf Gray and Pure Platinum, black and solar is still one of the rarest and most expensive silhouettes on the sneaker resale market. From $250 to 9k, these sneakers are making resellers good money. And as the years pass by, this value only seems to increase more. 
Nike Air 1 Yeezy Zen Grey 
Release Year: 2009
Retail Price: $250
Average Resale Price: $2,854
We'll be ending the rarest Yeezy sneakers list with the Air Yeezy 1 Zen Grey. It's the 1.8 Million prototype in grey. The Air Yeezy 1 line never stopped being successful. As it's still making resellers thousands to this day. But they were only a preview of what was about to come later on. 
Why Is Rare Expensive? 
Simple economic logic, exclusivity, and high demand mean one thing. And that is a high price markup. As products become more scarce, consumers naturally categorize them as unique which only attracts more attention. Therefore, demand increases along with the prices. This way, the priority goes to who's willing to pay the most.
As for sneakers, the story is similar. When exclusive sneakers drop, sneakerheads go through a copping war trying to cop them at retail. And if they take the L in doing so, they head towards their second option- the sneaker resale market. Which is an expensive alternative to say the least. The priority here goes to whoever places the highest bid. And let's just say that every time the number goes up, the buyer goes through a heartbreak. Wishing he had the seller's luck of copping it at retail. But what the buyer should know here is that luck doesn't have much to do with any of this. In the sneaker industry luck's more synonymous with a great sneaker bot. 
An Efficient Sneaker Bot
BUT what's a GREAT sneaker bot these days? As the sneaker resale market's growing daily sneaker bots are drastically increasing in number. So, it's a hard task to pick an efficient bot without a guide. Pointing out, that one of the best sneaker bots out there is EasyCop. ECB can help you cop ANY sneakers you want. The best part? Not only does it let you buy off Footsites, but its specialty is also YeezySupply. 
So, if you wanna get your hands on an upcoming Yeezys, make sure you start your experience with a good drop like the upcoming Yeezy Jade Ash. And in case you're buying from sites other than the official ones of Adidas.com and YeezySupply, you must learn how to spot fake Yeezys. Being deceived by a fraud sure ain't a nice experience after all.