A successful Air Jordan 1 and J Balvin Collaboration? Done! What's next? Well, it's time for Jordan 2s to take the spotlight. J Balvin hinted at another collaboration with the Jordan Brand back in 2021. Which had rumors circulating since then. But now rumors are finally over! Since Jordan Brand has recently confirmed and set a release date for the official release of the J Balvin Jordan 2. 
It seems like J Balvin enjoyed his time at fatherhood, and new music drops enough to celebrate with another Jordan collab. To say we've been waiting in utter anticipation for another collaboration is an understatement. And judging from his first collab's success, there's no doubt that many have regretted not copping it! But the good news is that another release is on its way. And by the looks of it, it sure holds promises of high success and even higher resale profit. 
J Balvin disliked the fact that no Latinos have ever collaborated with known brands such as Nike and Adidas. Which is essential to him and the Latinx culture. So, the famous singer made history and rocked the sneaker industry as the first Latino to collaborate with Nike. And needless to say, the release of his first collaboration,  a Jordan 1, scored huge success. It sold out in under a minute! 
J Balvin Jordan 2, Your September Cloudy kicks 
Will the second collab be as colorful as the first? Well, not really. But it's all the more interesting. It seems that Balvin is set on impressing us more upon every release. The new Air Jordan is on another level! 
The sky's the limit and the inspiration when it comes to Prince of Reggaeton's style. So, what colorway could overshadow the first? Celestine Blue, a sky-inspired hue, coats most of the new Jordan 2, giving it a breathy look. From the puffed-up upper panels to the cloud graphics around the heels, Celestine Blue sure is a color that makes a statement on these shoes. This same hue also covers the collars and insoles.
Moving on to J Balvin's signature smiley face on the heels gives the Jordans a cheerful vibe. The rainbow stitching accents throughout the shoes give it a dreamy look, too. Not only does it look like a cushioned cloud, but Balvin made sure it feels like it too. Air cushioned heels and premium material make up the new Jordan 2s.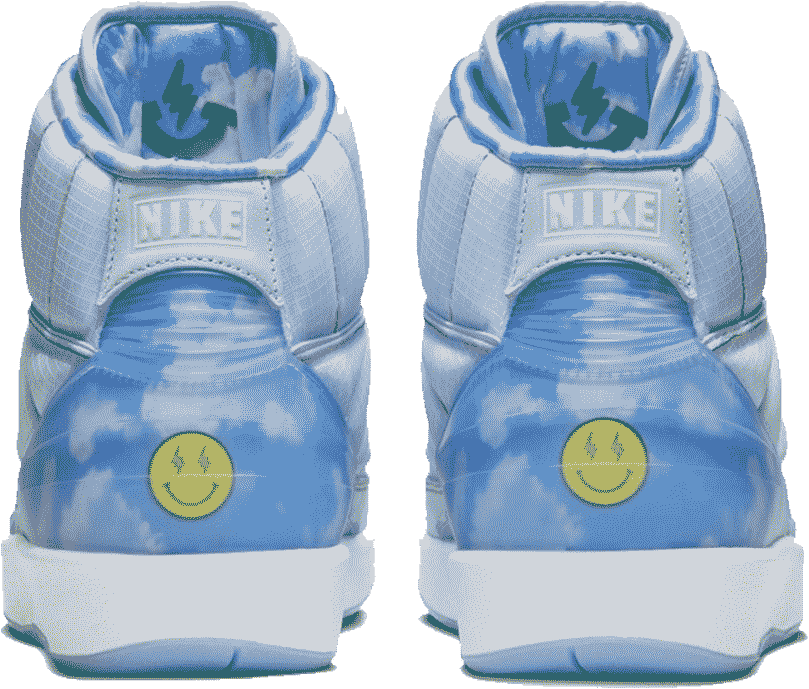 Now, the outsoles and tongue logos are a whole new story! They both have a glow-in-the-dark material that makes up the outsoles. At the same time, LED detailing make the winged logos on the tongues. So, you're free to dim the lights out and dance the night away like you're on a cloud, literally!

The When, Where, Why, And How Much Talk
Moving on to the important talk, let's start with the release date. Air Jordan 2 J Balvin will drop on September 15, 2022. You can find it on the SNKRS app and select retailers for $300. If you're thinking that it's a bit much, you must think of the MUCH it would make you on resale. As for why, well a serious talk is coming your way!
Why would you Buy it? 
Finally, all of J Balvin's creations are highly valuable. And the upcoming release is no different. This collaboration is the result of Balvin's need to raise awareness of mental health conversations, especially in Black communities. I mean, shoes with such a great cause behind them are surely worth a cop. However, if you're not ready to buy sneakers based on sentiments, let's talk money!  
Did you know that J Balvin's first collaboration with the Jordan Brand was a huge success? To the extent that the sneakers sold in under a minute. Actually, the release went by so fast that they couldn't record the exact seconds it took for the collection to be out. So, imagine the hype the new collection would have. It certainly will be a copping war!
Well, now that we've mentioned copping, you must know the importance of sneaker bots for such a release. Since this collection is exclusive, it won't release in large numbers to meet the high demand. So, you'll definitely need a sneaker bot to buy the new AJ2s at retail. Otherwise, you only have the choice of buying them at resale on platforms, such as StockX and GOAT. This would honestly be a great loss. Because through a bot, you won't be restricted to buying a single pair. A suitable bot helps you buy in bulk, so YOU are the one who resells on reselling platforms. Making tons of money reselling from the comfort of your home. Or wherever place that you're at. 
How much will the new J Balvins Make You?
If you're questioning whether this would be a good investment, take a look at Balvin's latest release. Jordan 1 Retro High J Balvin is still making resellers great money until now. It retailed at $190 and now it resells for $454. So, if you do the math you'll find that this is 138% net profit So, imagine you were one of the lucky ones to buy it in bulk. The profit that drop would have made you!
But, let's keep the past in the past and move on to the present matter. Or more like ways that can make you money, Now. Easy, J Balvin Jordan 2 without a doubt!
Finally, the Jordan 2 Retro J Balvin already has a resale value and it hasn't even been released yet! Its resale value is $470, 156% as profit. So can you imagine how much this value is gonna skyrocket upon its release? Therefore, to guarantee you cop  the cloudy sneakers, on September 15th, you'll need a trusted bot to do so, such as ECB.