Who wouldn't like owning a precious Ruby? Especially if this called gem-like is a Jordan 11 Cherry! 
After months of anticipation, Jordan Brand finally decided to put us out of our misery by revealing the awaited Jordan 11s. We've gotten used to the brand releasing a Jordan 11 around the Holiday Season of every year. And this year is no different. So now the brand's gift for you comes in the shape of the best type of cherries out there, the Jordan 11 Cherry. 
Jordan 11 History 
Did you know that Michael Jordan once retired from Basketball to join Baseball, months later? Well, it's true. In 1993, after three consecutive years of winning the championship, Michael Jordan dropped a bombshell about his retirement from the NBA. He didn't give people much time to take the news in. A few months later, he announced joining the White Sox baseball league. This all followed his father's murder on July 23, 1993. 
Michael Jordan is certainly the main reason for bringing the Air Jordan 11 into the spotlight and making it a legendary shoe. However, we can't forget about the creative designer that brought it to life. Tinker Hatfield made MJ's requests a reality. Jordan simply requested a shiny shoe. Next thing you know Jordan 11s came to life with the shiniest patent leather that rewrote Air Jordan's history. 
Jordan 11 is also Hatfield's favorite shoe. And this is definitely saying something. The designer of many legendary shoes picks a favorite. What more strange is that Hatfield believed so hard in the Jordan Brand that he designed the 11s when MJ was retired! Even Nike wanted to stop producing Jordans, BUT this clearly wasn't demotivating enough for the innovative designer. So, Jordan 11s mark MJ's return to basketball anniversary. 
Jordan 11 Cherry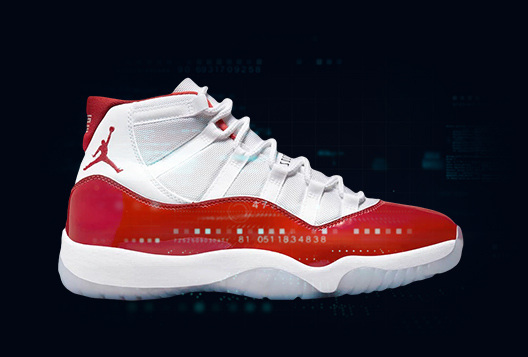 Now that the Holiday season is around the corner, it's only natural to discuss Jordan 11's features and colorways. So it seems that 2022 is bringing cherries to the table. 
Instead of Jordan Lows which dropped in 2001 and 2016, Cherry Jordans make it back but with a High style. 
Starting off, patent leather of titular Cherry red wraps the mudguard like the Holiday gift it is. To be more specific, Ruby Red overlays the middle of the shoes, contrasting against the uppers and soles. Red also makes the Jumpman logo, sock liner, and heel tab. White shoelaces, eye stays, and tongue make the shoe uppers. While an icy blue hue overlays the outsoles presenting Winter vibes, unlike the warm red color above. In addition, a plain white color shades the midsoles.
Extra Info
The Air Jordan 11 Cherry is expected to drop at a retail of $225, on December 2022. So, make sure you don't miss your holiday present. Because this same gift could be your means of making fortunes! 
Besides, Air Jordan 11s have a great history in the resale market. Take Jordan 11 Retro Cleat for example. It retailed at $125 back in 2018, but now it's reselling at the value of $605. In other words, it now makes 384% profit- more than 3x its retail value. So, reselling Jordan 11s is an investment in itself. 
Finally, as the sneaker resale market grows more each passing year, sneaker bots gain more popularity along the way. The reason behind that is people's growing interest in collecting and investing in sneakers. So, now that sneaker bots increase in number, it's hard to find a great yet affordable bot without a guide.
Now, regarding the upcoming Air Jordan 11 Cherry, you can cop it off EasyCop Bots. ECB is the ULTIMATE sneaker bot when it comes to scoring literally ANY sneakers you want. Noting that, it certainly ticks the boxes of being suitable, affordable, and efficient.