Jordan 1 Lost and Found Chicago, aka Reimagined, sure has found us in its best shape. 
The classics are just around the corner! Jordan 1 Chicago will NEVER be unanticipated. It's the sneakers everyone's always waiting on. And there's no doubt that it ranks high on every sneakerhead's must-have list. 
It's been a long time since a Jordan 1 Chicago has dropped. So, 2022 seems to be a lucky year for you because the Chicagos will drop before the year ends. And what better way to celebrate the end of year than with the release of vintage Jordans?
Jordan 1 Lost And Found Chicago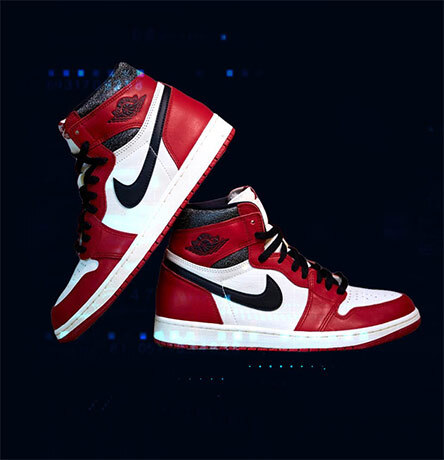 So, wondering what the Jordan 1 lost and found looks like? A dream come true! If you didn't get a chance at buying them before, Jordan Brand's giving you another chance. 
Vintage OG colorway and a similar silhouette to the 1985 version make up the upcoming Jordans. Aged-looking leather base with cracks on the collars, mid-panels, and toe boxes duplicates a worn-out look of the older 85s pair. The sole also plays a role in representing the vintage pair. They have a dusted look on the red rubber outsole that features stored sneakers. 
White underlays make up the base of the shoes. From the toe box, yellowish tongue, and quarter, to the midsole, white adorns most of the shoes. While Varsity Red and black overlay the rest. The shoelaces and swooshes are deep black, but cracked black overlays the collars. What's unique about this release are the larger swooshes, additional branding on the insole, and special packaging. 
The package tells a story in itself. The lids of the box look like something taken from Air Jordan Knock Off. And the AJ1s come wrapped in a newspaper-like paper with vintage ads all over. It looks like something right out of a classic movie. 
Why Buy Jordan 1 Lost And Found Chicago?
 Let's start off by saying that classic sneakers like Jordan 1 Chicago never fall out of fashion. Their value is another story. As years pass by, their value only seems to increase more and more. Take Air Jordan 1 Chicago 1985, for example. It's now making resellers more than $17k! And the 2015 Retros make nearly $2k with each pair sold. Now, that is a  lot of money. So, if you don't wanna get the AJ1s for their looks, consider the business side of such a purchase. 
Moving on, if you wanna get your hands on this release, you certainly don't want to wait to get it off resale platforms. So, what you need to do is buy it through a sneaker bot. It's your best tool for scoring exclusive sneakers like this one. It helps you cop sneakers at retail off official websites, like Nike.com. And if you're still new to this talk, you should know that not just ANY bot can help you cop limited-edition sneakers. Or ANY sneakers you want that is. An efficient bot with a successful copping experience does the job better. A sneaker bot such EasyCop can make your life much easier. It can help you cop any sneakers you want. And not only is it efficient but it's one of the most affordable sneaker bots out there. 
On a further note, if you want to be a member of the sneaker resale market, Jordan 1 Lost and Found is definitely a beginner's luck. It's dropping on November 19th, 2022 at a retail price of $180. So, be ready to cop the classics away!